Store - products for purchase
Endorsement
"I am very grateful that Rivkah Isaacs has written "Covenant & Religion" because this book brings a whole new perspective on the topic of repentance, and on why we must examine the sin in ourselves and in our own church before we can reach out to followers of other religions with the Good News of the Gospel.
"By now, most of us have committed 2 Chronicles 7:14 to memory, but in this book, Rivkah takes us to the depth of God's heart in calling us to repentance because this is all about how we, as a people, have grieved Him by breaking COVENANTS in all of the seven mountains of culture.
"In addition, Rivkah's core teaching on Repentance and Replacement, coupled with all the other themes in her book, bring us a fresh understanding of why Abba is calling us to repentance, and then a new strategy to be effective in humbling ourselves before Him.
"This presentation is so CLEAR, and the "game plan" or strategy is so clearly defined with the themes repeated in each chapter—we can ALL understand the depths of His COVENANT LOVE as we explore these amazing pages!
"So, thank you, Rivkah, for sharing your most valuable insights with us. May each one who reads "Covenant & Religion" receive a new anointing from His Throne of Grace as we work together to see His Kingdom come on earth as it is in heaven. Amen!"
Sara Ballenger, Founder and President
Capitol Hill Prayer Partners
Covenant & Family
Keeping Covenant with the Lord in the Seven Mountains of Culture Series – Book 2
Description
"Covenant & Family" goes in depth on applying biblical principles found in 2 Chronicles 7:14 of repentance and replacement relating to keeping covenant in the family in order to bring healing to our nation.
Please visit this link to see excerpts from each chapter.
Endorsements
"With the anointing of the Holy Spirit, Rivkah Isaacs has written this very thorough Guidebook to aid our prayer lives, pointing out the necessity of praying through the Word of God.  Too often we believers find ourselves praying without real power because we do not bring into focus the fact that our LORD God has established a Covenant relationship with His people.  As we become responsible recipients of this Covenant Blessing, we have the tools in this wonderful, Spirit-inspired Guidebook to take us from our need for repentance to the confidence in knowing that the replacement Scriptures we are inspired to pray WILL be heard by our Heavenly Father, and that God's Word  WILL NOT return unto Him void!  This is confident, competent praying!  With spiritual warfare issues abounding every day all around us, this style of prayer is exactly what we need right NOW." Deborah Poteet-Johnson, M.D.
"Rivkah Isaacs has compiled and written a very special volume which fills a much needed vacuum between books detailing subject studies of Scripture and manuals of "how to" apply scripture to everyday life. Once "Covenant & Family" is in your hands, you will find Scriptural principles where you "fit in" and then will discover simple understandable steps to take the words of the Bible and apply them to your personal and intimate relationships—both in your own family as well as the family of God. In this day and age, Biblical-based Covenant Living has been neglected. With the explosion of communication technology in this 21st Century, we are the most connected generation in the world while we are fast becoming the most isolated in covenant relationship. I strongly suggest you get your personal copy of "Covenant & Family." Learn how to live the covenant life then apply it through your communication network. It will change your life!" Barton Buhtz
The Fruit of the Holy Spirit as Spiritual Warfare
CD Series
Description
God gives believers specialized weapons with which to fight spiritual battles. One powerful weapon against the enemy is the Fruit of the Holy Spirit. The enemy wants to steal, kill and destroy God's promises and provision for His children in the Fruit of the Holy Spirit. Understanding these promises and putting them into action enable us to engage in effective warfare and successfully combat the enemy's tactics.
Through this powerful series, you will learn:
What the enemy wants to steal from us in each Fruit of the Holy Spirit
The difference between well-intentioned prayers and effective prayers
How to overcome the spirit of poverty and establish an eternal inheritance
Intimacy and relationship with the Father, Son and Holy Spirit usher in righteousness, unity, redemption and repentance
How the God of Peace will crush Satan under our feet
Our most effective weapon against pride
Faith in God versus making His promises idols
Keys for victory in overcoming judgment and guilt
Effective strategy for evangelism
What weapon is indispensable for end time warfare
Content List
Session 1: Introduction to the Fruit of the Spirit as Spiritual Warfare (48 minutes)
Session 2: Love Part 1 (44 minutes)
Session 3: Love Part  (96 minutes)
Session 4: Joy (30 minutes)
Session 5: Peace (66 minutes)
Session 6: The Kingdom of God – Righteousness, Peace and Joy (22 minutes)
Session 7: Patience (42 minutes)
Session 8: Kindness (64 minutes)
Session 9: Goodness (50 minutes)
Session 10: Goodness and Mercy Triumph Over Judgment and Guilt (54 minutes)
Session 11: Goodness and Glory as Warfare Over the Spirit of Leviathan/Pride (57 minutes)
Session 12: Faith (80 minutes)
Session 13: Gentleness (77 minutes)
Session 14: Self-Control (62 minutes)
The Fruit of the Holy Spirit as Spiritual Warfare: Companion Guide
Description
Written in a detailed outline format, "The Fruit of the Holy Spirit as Spiritual Warfare: Companion Guide" accompanies "The Fruit of the Holy Spirit as Spiritual Warfare" CD teaching series. (8.5 x 11, 120 pages)
The Family & The Fruit of the Holy Spirit as Spiritual Warfare
CD Series/Companion Guide
Through this series, you will learn:
Whether you are married, unmarried, have children, work with families and children, or want to be equipped for the future, you will want to learn how to apply the Fruit of the Holy Spirit as Spiritual Warfare in the family. In this teaching series, you will gain knowledge of:
How the roles of father and mother are represented in the Godhead, and what this means for the family
Tools for communicating and teaching children how to live relationally in the Fruit of the Holy Spirit, and how to use these tools as warfare
Which aspects of Fruit of the Holy Spirit combat sibling rivalry, jealousy, envy and rebellion
What the Bible says about greatness and inheritance, and how this functions in the context of family
Ways you can fortify your child to be victorious over the effects of peer pressure and bullying
"The Family & The Fruit of the Holy Spirit as Spiritual Warfare Companion Guide"
is written in a detailed outline format, and accompanies the CD teaching series. (8.5 x 11, 96 pages)
Hearing God Journal
Description
These journals are designed to assist you and your children as you work together as they learn to hear and discern the voice of God. Whether they have a dream, a vision or hear from the Lord, there is much to be learned about what to do with what the Lord says. Each entry provides space to record what was heard, what Bible verses relate to what was heard, items of action steps, etc. Journal is available in three covers.
The Fruit of the Holy Spirit as Spiritual Warfare Study Group Pack
Description
Host your own study group on the Fruit of the Holy Spirit as Spiritual Warfare by utilizing the CD teaching series. Attendees may follow along with their own copy of the Companion Guide.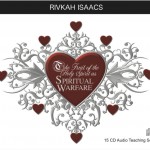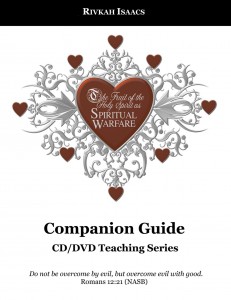 To purchase the FOTHS Study Group Pack, please contact our office for customized pricing.
To calculate pricing, please include in your email the following information: the FOTHS CD series, the number of Companion Guides and zip code.
Spirit-to-Spirit Blessings
Description
Spirit-to-Spirit blessings specialize in ministering to the human spirit from the fruit of the Holy Spirit. Father God created each person with a spirit, soul and body.  Ministering to all three of these components benefits and empowers the whole person. The CD teaching series on "The Fruit of the Holy Spirit as Spiritual Warfare" focuses on ministering to the soul. These Spirit-to-Spirit Blessings build upon the CD teaching series. They can be used in conjunction with the CD series, or they can be used on their own.
Content List for Love
SSB Love 1 – God Is Love
SSB Love 2 – Everlasting Love
SSB Love 3 – Spirit, Soul and Body
SSB Love 4 – Victory Over Fear, Control and Witchcraft
SSB Love 5 – Love is a Person
SSB Love 6 – Love is God's Nature
SSB Love 7 – Courage of Daniel
SSB Love 8 – God First Loved Us
SSB Love 9 – Love in Actions and Truth
SSB Love 10 – Do Everything With Love
SSB Love 11 – Love Covers All Sins
SSB Love 12 – God Rests in His Love for You
Content List for Joy
SSB Joy 1 – Expression of Joy
SSB Joy 2 – Joy, Righteousness and Perfect Love
SSB Joy 3 – Fullness of Joy
SSB Joy 4 – Joy for Mourning
SSB Joy 5 – God's Joy Over You
SSB Joy 6 – Rejoice with Great Joy for Your King
SSB Joy 7 – Rejoice in the calling of the Lord for Others
SSB Joy 8 – Serving the Lord with Joy for the Abundance of Everything
SSB Joy 9 – Joy in Giving
SSB Joy 10 – Joy and Fragrance
SSB Joy 11 – Joy and Forgiveness
SSB Joy 12 – Joy to Counselors of Peace
Content List for Peace
SSB Peace 1 – Covenant of Peace
SSB Peace 2 – Peace to Guard Your Courage
SSB Peace 3 – Be Anxious for Nothing
SSB Peace 4 – Thanksgiving & Peace to Guard Your Heart & Mind
SSB Peace 5 – Peace to Guard Your Emotions
SSB Peace 7 – Peace Guards Your Heart & Mind From Toxic Relationships
SSB Peace 8 – The Covenant of Peace & the Lord of Hosts
SSB Peace 9 – Peace Guards Heart & Mind from Self-Protection
SSB Peace 10 – Peace as Warfare Against Witchcraft & Control
SSB Peace 11 – The Covenant of Peace and Sleep
SSB Peace 12 – The Covenant of Peace & Safety in Sleep
Exceeding Joy Blessings – Part 1
Description
Exceeding Joy Blessings focus on coming in the opposite spirit of the spiritual roots of depression. These blessings are based on Scripture and come from a positive aspect. They are not limited to minister only to those with depression. Hope, healing of the heart and encouragement are essential for victorious living. This four CD audio series includes: "Blessing Your Spirit with Hope", "Heart Blessings", "Anti-Depression Blessings", and "Survivor Blessings: Renewing Your Mind".
"Survivor Blessings: Renewing Your Mind" specifically addresses Scripture verses and truth to minister to blessings to those who seek healing from mind control and programming. Programming can occur in cases of abuse, and it can also be done on a lesser scale in normal everyday life. Note to survivors: these blessings address items of programming from a positive aspect. However, if you find yourself sensitive to triggers, please listen to these in a safe environment.
Content List for Anti-Depression Blessings
ADB 1 – Countenance of God
ADB 2 – Moses and the Countenance of the Lord
ADB 3 – Joy in the Presence of the Lord
ADB 4 – The Beauty of the Lord
ADB 5 – The Light of the Lord
ADB 6 – The Truth of the Lord
ADB 7 – The Lord Your Exceeding Joy
ADB 8 – The King of Glory
ADB 9 – The Lifter of Your Head
ADB 10 – Priestly Blessing
Content List for Heart Blessings
HB 1 – Blessing Your Spirit to Heal a Melted Heart
HB 2 – Blessing Your Soul to Heal a Melted Heart
HB 3 – Blessing Your Body to Heal From a Melted Heart
HB 4 – Blessing Your Spirit to Heal Your Broken Heart
HB 5 – Blessing Your Sprit to Heal a Broken Heart Caused by Reproach, Shame and Disgrace
HB 6 – Blessing Your Spirit to Heal a Fatally Wounded Heart
HB 7 – Blessing Your Spirit with Tender Mercies for a Pained Heart
HB 8 – Blessing Your Spirit for Healing Your Heart of Anxiety and Depression
HB 9 – Blessing Your Spirit for Healing the Overwhelmed Spirit and Distressed Heart
HB 10 – Blessing Your Spirit When Your Heart Fails
Content List for Hope Blessings
HB 1 – Hope in the Lord Your Dayspring
HB 2 – Hope in the Lord Faithful and True
HB 3 – Hope in the Lord Your Healer
HB 4 – Hope in the Lord Your Redeemer
HB 5 – Hope in the Lord the Rewarder
HB 6 – Hope in the Lord Your Maker
HB 7 – Hope in the Lord Your Refuge
HB 8 – Hope in the Lord Your Shield
HB 9 – Hope in the Lord Your Exceedingly Great Reward
HB 10 – Hope in the Lord the King of Glory
HB 11 – Hope in the Lord of Hosts
HB 12 – Hope in the Lord Your Husband
HB 13 – Hope in the Lord the Avenger*
(*Parents, please note: This blessing contains a mature topic from 1 Thess 4:3-6. It's delicately handled in this blessing.)
Content List for Survivor: Renewing Your Mind Blessings
SB 1 – Abundant Life
SB 2 – Father to the Fatherless
SB 3 – Heir with Jesus
SB 4 – God Sets the Lonely in Families
SB 5 – The Voice of Children
SB 6 – The Work of the Lord is Done in Truth
SB 7 – Identify with God
SB 8 – Strength in God
SB 9 – The Weak to Shame the Strong
SB 10 – The Holy Spirit Helps in Our Weakness
SB 11 – A Sound Mind
SB 12 – Faithfulness and Protection of Your Heavenly Father